How we started Sniffe & Likkit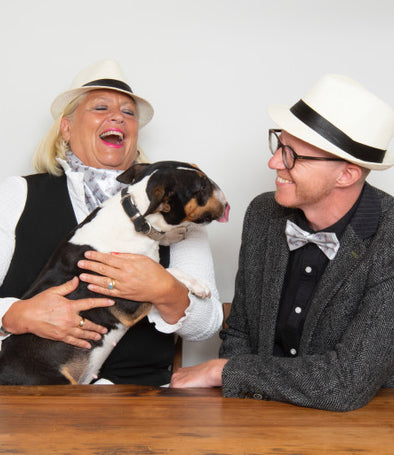 As with many good stories, it all started in New York City....
It's 2018 and our founder Lee is working in the beauty and personal care industry for a big global retailer. The days are spent developing ideas for new products for women and men, based on all the latest trends and ingredients that humans demand. And the nights are spent enjoying New York: a place famed for its love of convenience, shopping… and dogs!
Not wanting to miss out on the canine fun, but aware his assignment was not permanent, Lee turned to the local charities who connect needy dogs with temporary homes: dog fostering. It's common in the US and gave rise to the term 'foster fail' - where temporary doggy parents quickly fall in love with their guest, who unexpectedly finds their 'furever' home as a happy result.
Lee's first dog was an adorable American Pit Bull who had been abandoned in the Bronx, a real 'tough guy' (the dog, not our founder)... there's more to that story on our 'Foster Stories: Tank' blogpost. 
Suddenly thrust into buying unfamiliar product categories for the first time – from dog food to chew-toys, collars to shampoo, poo bags to booties (this was New York) – his experience was that the selection of products was quite thin. Even here in NYC, the options tended to be poor quality, or overly luxurious.
Where was the doggy equivalent of what he spent all day long developing for humans? Great products, with amazing ingredients, but without unaffordable price tags.
When Lee got back to the UK in mid-2019 he began finding out more about pet ownership and habits and researching better alternatives…. only to discover unmet needs for great grooming solutions that owners can use at home easily, as well as gifts and treats for pets that are effective, affordable and fun.
But how to make it real? Contact with a former colleague Judy, who loved the idea, led to the two become co-founders of a new business to specialise in premium petcare, built on human-grade ingredients, fragrance and a promise to deliver 'the joy of pets'
And so began the 'itch' that must be 'scratched'. Judy and Lee set out on a mission to make sure furry companions (and your space) smell, feel and look their best.
How it's going
Wind forward through a pandemic that impacted everything from the supply of ingredients, to the availability of cardboard, and of course the ability to meet in person and we arrive at late 2020. The first products are in their packaging, safety-tested, compliant and ready-to-sell. It's about 6 months later than planned, which meant missing some crucial opportunities to launch, but they're just glad to have been able to keep working on the project. 
Super-keen to see what the pet business would make of their new approach, Lee and Judy entered their grooming products into a prestigious international Pet Industry show, and won 'Gold' award for 'Pet Product Of The Year' in the category of healthcare/grooming. What a way to announce the arrival of Sniffe & Likkit; from a blank sheet of paper to the best available!
As retailing re-opened for business the pair were able to present their products to pet shop stockists, pet-friendly destinations and online platforms who were all sensing the 'boom' that was happening in the dog world. With more hounds in more homes than ever before, now is the time to delight dogs and owners alike with the new range.
Sensing the timing was right, Lee and Judy expanded the range straight away into more gift packs and treats, including accessories like 'Glove My Dog' natural bamboo towel.
18 months on, we can now see what our top sellers are and it's no surprise they are the products that we spent longest getting right; the 'no rinse charming' waterless wash dry shampoo, the 'fab paw' soothing skincare and our lovely 'give a dog cologne' conditioning furmist and deodoriser.
These at-home and on-the-go grooming products are the cornerstone of the idea: fun, fabulous and fragrant solutions that really work – and smell great to your dog!
Click below for more about how important fragrances are to doggy's sniffe systems.